HPCC 40th Anniversary Conference
Saturday 22nd - 23rd October 2022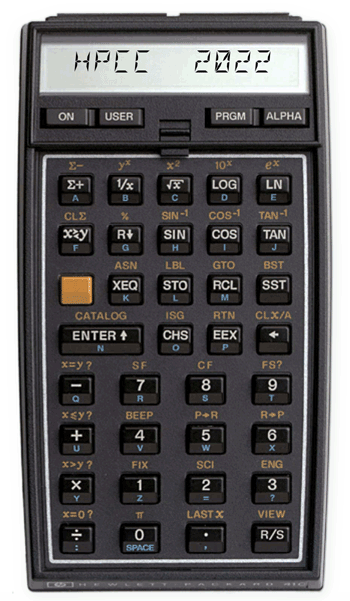 HPCC celebrated its 40th Anniversary with a conference in London over the weekend of 22nd and 23rd October 2022. HPCC members and HP calculator enthusiasts from around the world attended.
The conference was held at the Polish Social and Cultural Association, 238-246 King Street, Hammersmith, London W6 0RF.
We launched our new book RCL40: Recollection, Reinvention and HP Calculators at the conference. Copies of RCL20: People, Dreams & HP Calculators, still available to purchase from the club.
Slides, videos and photos from the conference will be uploaded in the next few days.
Conference Timetable
Saturday 22nd October 2022
Start
Finish
Duration
Presenter
Title
Slides
Video
10:00
11:00
01:00
Doors open
11:00
11:15
00:15
Włodek Mier-Jędrzejowicz
Welcome
11:15
12:00
00:45
Chuck McCord
Single Chip Series Ten
Slides
Video
12:00
12:30
00:30
Jake Schwartz
PPC Archive
Slides
Video
12:30
13:30
01:00
Lunch
13:30
14:30
01:00
Klaas Kuperus
Moravia & HP calculator plans
Video
14:30
15:15
00:45
Mark Power
HP Prime Classroom Kit
Slides
Video
15:15
16:00
00:45
Afternoon tea and Birthday Celebration
Slide
16:00
16:30
00:30
Chuck McCord
What if we could have another model in the Voyager Series?
Slides
Video
16:30
17:15
00:45
Włodek Mier-Jędrzejowicz and Michael Steinmann
HP-32S, HP-32SII and DM32
Slides
Video
17:15
18:00
00:45
Włodek Mier-Jędrzejowicz, Mark Power, Bruce Horrocks
RCL40 Launch
Video
18:00
19:00
01:00
Adjourn to restaurant for drinks/speeches
19:00
Dinner
Sunday 23rd October 2022
10:00
10:30
00:30
Doors open
10:30
11:00
00:30
Cyrille de Brebisson
Recollections
Video
11:00
11:30
00:30
Chuck McCord
HP75 S/W Development System
Slides
Video
11:30
11:45
00:15
Break
11:45
12:15
00:30
Robert Efroymson
Beyond the Beep
Slides
Video
12:15
13:00
00:45
Steen Petersen
The Story of the HEPAX Module
Slides
Video
13:00
14:15
01:15
Lunch
14:15
14:45
00:30
Chuck McCord
HP92 Bobcat Development System
Slides
Video
14:45
15:30
00:45
Eric Rechlin
Archiving
Slides
Video
15:30
16:00
00:30
Włodek Mier-Jędrzejowicz
Closing remarks and special presentation
Video
16:00
Day 2 finish
Page Last modified: 28th May 2023